The quokka has been considered an animal vulnerable to extinction. However, the marsupials are now booming on Rottnest Island, thanks to urban development.
It appears that quokkas are happiest on the golf course.
The teddy bear-sized marsupials can only be found in southwestern Australia. They have been struggling on the mainland, thanks to predators and habitat loss. The same can't be said for Rottnest Island, as the quokka population has already exploded there.
While one man was visiting the island in 2012, he took a selfie with a smiling quokka. He shared the photo on social media and it quickly went viral.
Thanks to this photo, numerous tourists visited the island. As a result, new facilities to accommodate the tourists quickly followed. Since the tourist number has increased, so has the quokka population on the island.
---
According to wildlife biologist Veronica Phillips, quokkas are nocturnal animals. However, they changed their activity patterns because they want to be around tourists during the day.
In a 2016 study published in the Italian journal Hystrix, Phillips found out that quokkas living in areas of the island that are highly developed for tourism were in a better condition than those from less disturbed habitat types, such as dunes or woodlands. Quokkas can survive in such developed areas.
Thanks to the year-round lawn buffet and crumbs thrown by tourists help quokkas make it through the summer.
Sadly, development on the mainland is not so kind to the quokka population. Thanks to the urban expansion and agriculture, quokkas have lost 50 percent of their habitat.
Numerous people don't realize that quokkas on the mainland are really suffering. Even with the boom on Rottnest,  quokkas are still vulnerable to extinction.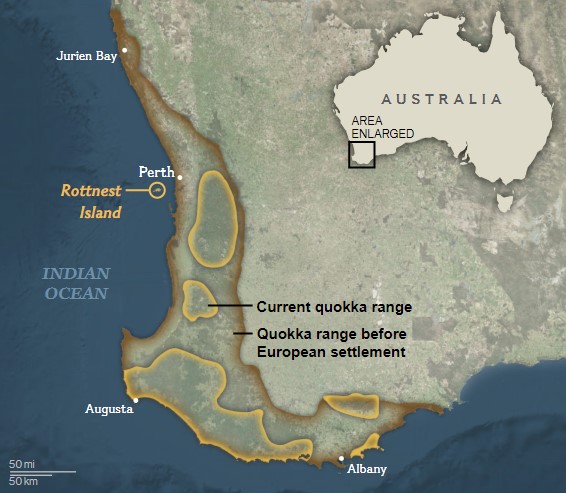 About 13 to 20 percent of the island's quokkas live around the country club, depends on the time of year. Managers aren't happy with this because quokkas can damage the areas.
However, quokkas are not happy there for long. If too many animals live in one area, they could end up fighting for food. Also, if there is a disease that hits the group, it could spread really quickly.