Meet Walter — the most adorable donkey who just wants to fit in with his family.
This donkey has been growing up with three German shepherd siblings and even picked up some of their habits. However, his owners love him no matter what.
Kelly and Brad Blake took Walter when he was just a baby. They took him into their home in Oatman, Arizona. Town locals together with the Bureau of Land Management tried for 10 hours to get Walter's mom to take to him, but she rejected him because she was too young. Nothing seemed to be working, so the Blakes were called and asked if they want to adopt him. Luckily, they said yes.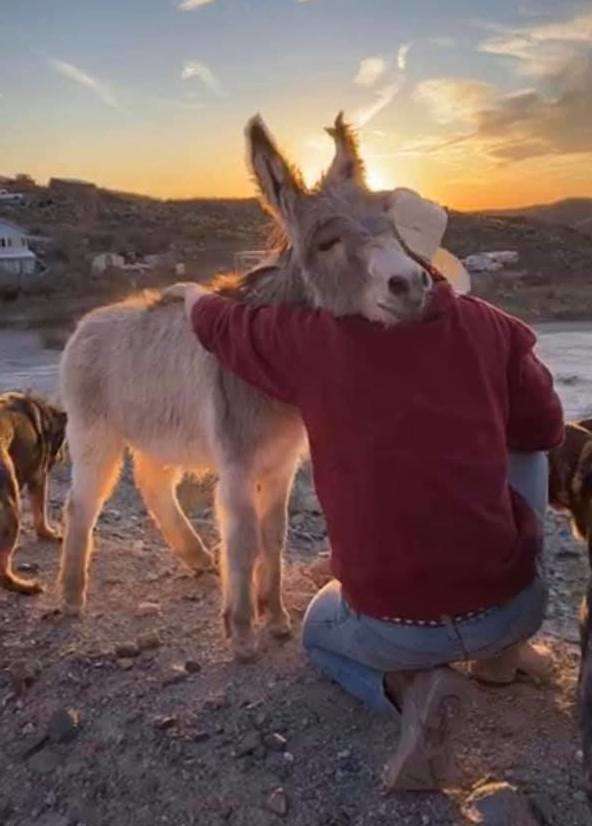 The donkey adjusted to his new home very quickly. The moment his new parents showered him with love and affection, Walter managed to connect to them on a deeper level, especially with his dad.
Since the donkey started living in the Blakes' house, he is grown to be 150 pounds. The coupe also has three German shepherds who take care of Walter since day one. The dogs even helped in teaching him house manners.
---
Walter even took some of his siblings' behavior. His dog-like personality really came out one day when his dad returned from a business trip. Walter started running and jumping up and down in excitement. He even wags his tail happily, just like a dog!
Brad takes Walter out for a walk almost every night and the donkey runs around with their shepherds just like he is one of the pack.
Watch Walter and his parents' cute reunion here:
Walter gives back to the local community by working with several charities. He also volunteers as an emotional support donkey. His parents even set him up with a Facebook account and update his fans for his daily adventures.