With International Homeless Animal Day coming on August 21, Redditors were asked by Insider to post before-and-after photos of their beloved adopted dogs. A great deal of these pups faced suffering most of their life, but thanks to their new families, they now have warm and loving homes.
Here we see Dice who is "one happy, healthy, thick boy" after having his belly filled with food, and his heart filled with love!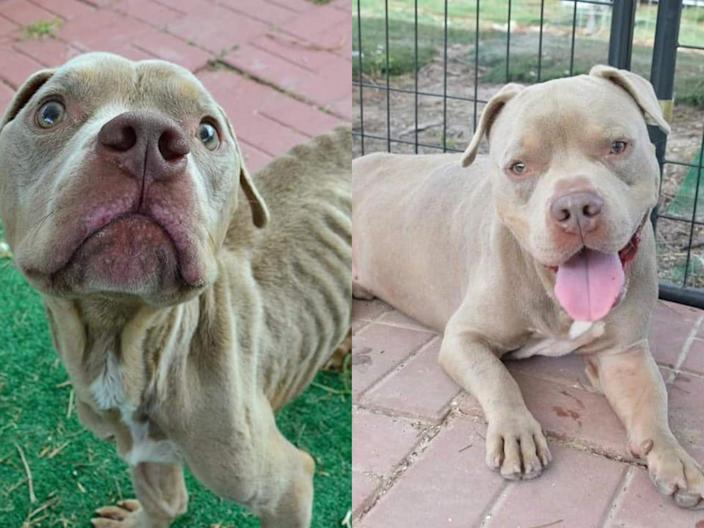 Dice. Feeling Fine Canine and Equine Rescue
In early November 2017, Dice with his 30 pounds was rescued and taken to Feeling Fine Canine and Equine Rescue. Fast forward to today, Dice is a thriving chubby little fella!
"Dice is amazing. When he first came to our rescue he was weak and could hardly stand. After weeks of rehabilitation care and love, he absolutely blossomed and doesn't stop smiling," Feeling Fine told Insider in 2018.
Here we see Virgina, or Ginny, the "glowing, hydrated, and thriving" pit bull as her owner describes her, smiling! Proof that she is no longer the tired and scared pup she once was!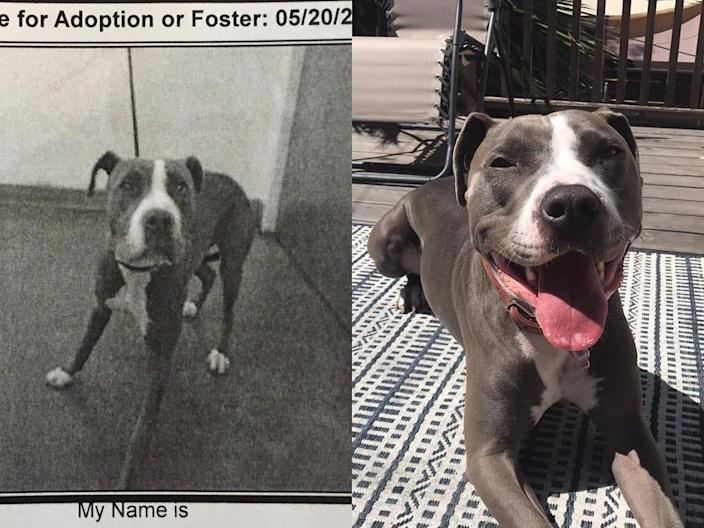 Ginny. virginiathepitbull/Instagram
Here we have Jax, the smiling doodle mix enjoying his new loving home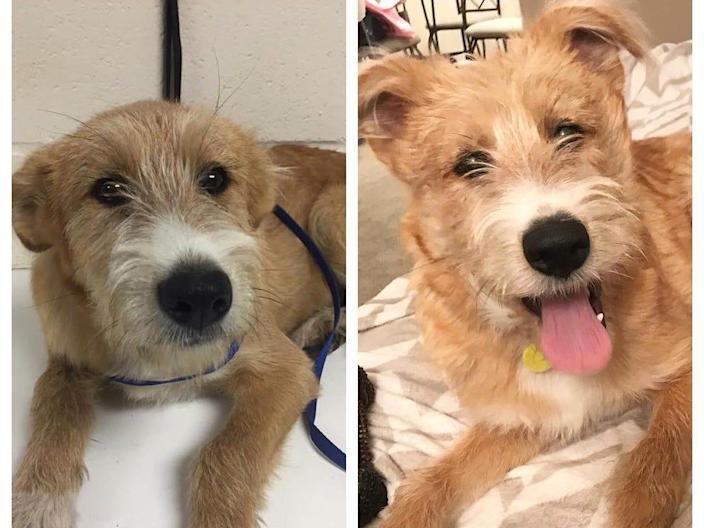 Jax now has a younger sister, Ellie, too.
Rosie! The cutest rescue from Texas. Look at those eyes glowing with happiness!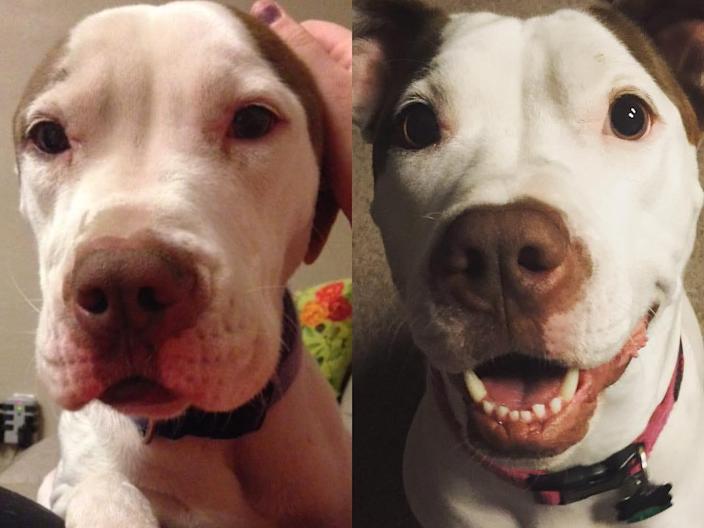 Rosie. rosieposiepit/Instagram
"I don't like to think about before I met mom, I'm much happier and healthier now! I'll bite my last owners butt if I ever see him again," the caption read.
Once underweight and terrified, Millie is a transformed  dog in her new warm home. And that warm home put 30 pounds on her!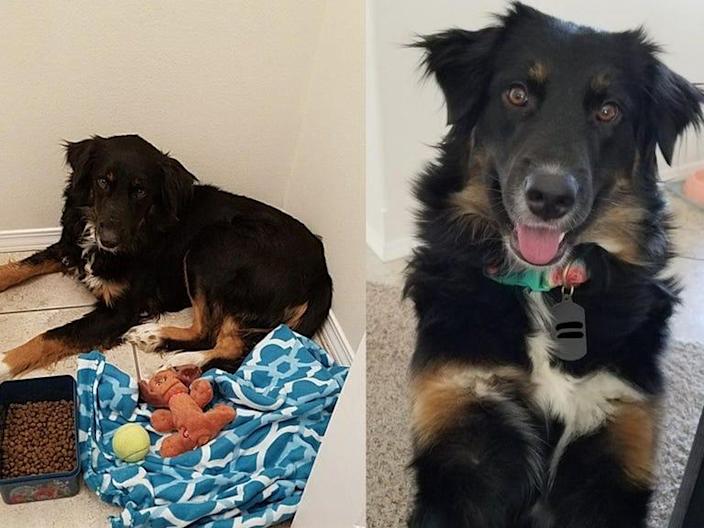 Millie. script_keeper/Reddit
This silly looking charmer is Baker, a happy black terrier mix, with 15 pounds plus!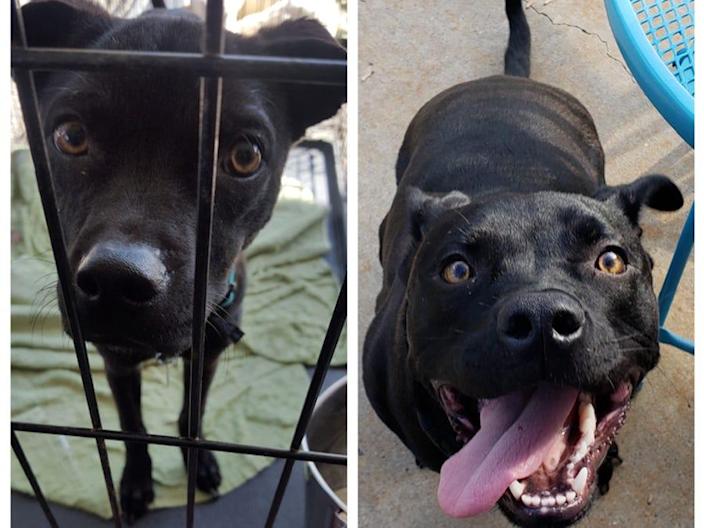 Baker. BananaStand07/Reddit
Bodie's life was transformed for the better by his new owner, Julie. He's a rescue from Chicago, and as Julie likes to say, he's " 74% pit, 26% staffy, 100% cuddlebug."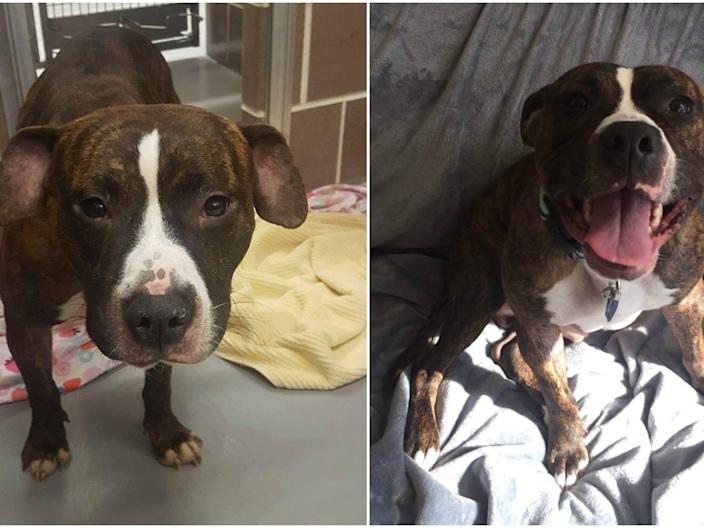 Bodie. pibblesandpies/Instagram
Harper is no longer scared! His trust in people is back in his eyes!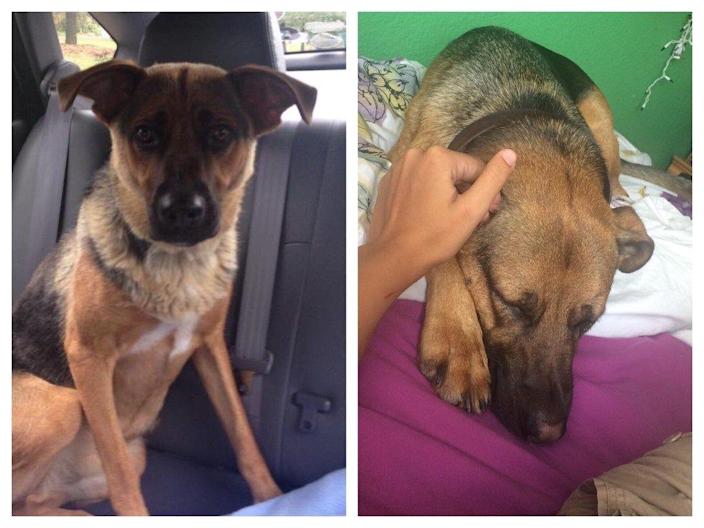 Harper. dingomart/Reddit
Adopted while still being a baby, Penny is now an outdoorsy fun loving pup!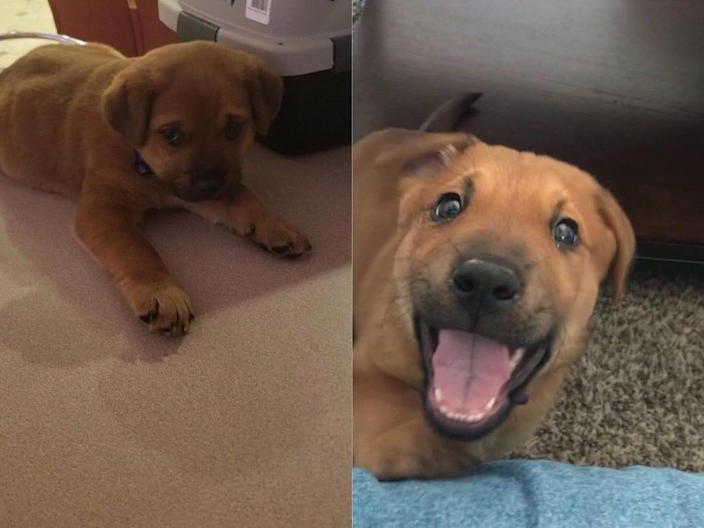 Penny. manyadventuresofpiperandpenny/Instagram
This is Yoshi, a 57-pound energy ball that left his old life of being a scared pup behind.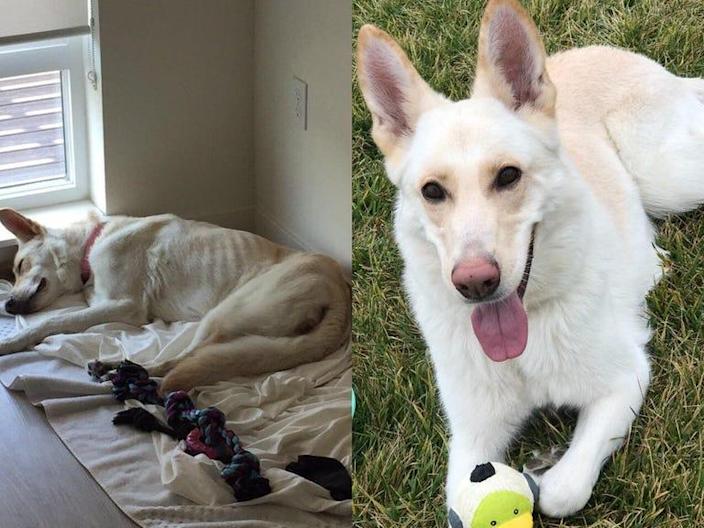 Yoshi. Mofo_Turtles/Reddit
This cutie pie is Hank, a schnauzer and shih tzu mix, and his owner says he's "the happiest baby". The photos say it all!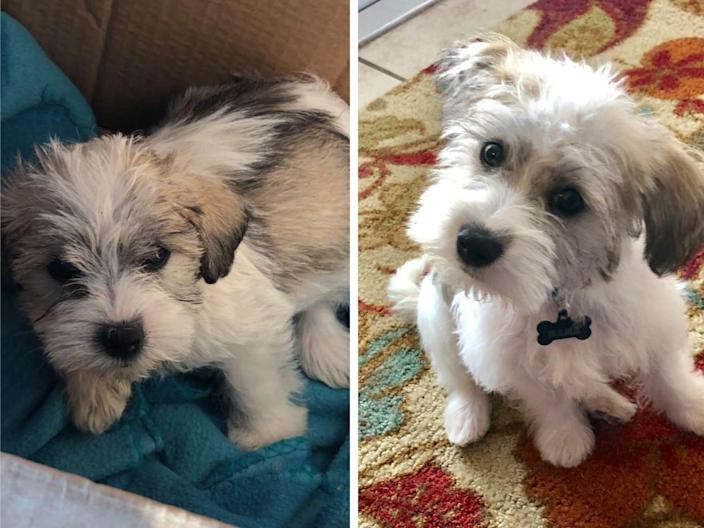 Hank. mfisbeck/Reddit
Pippin's owners described him as "50% Australian Shepherd, 50% St. Bernard, and 100% cute."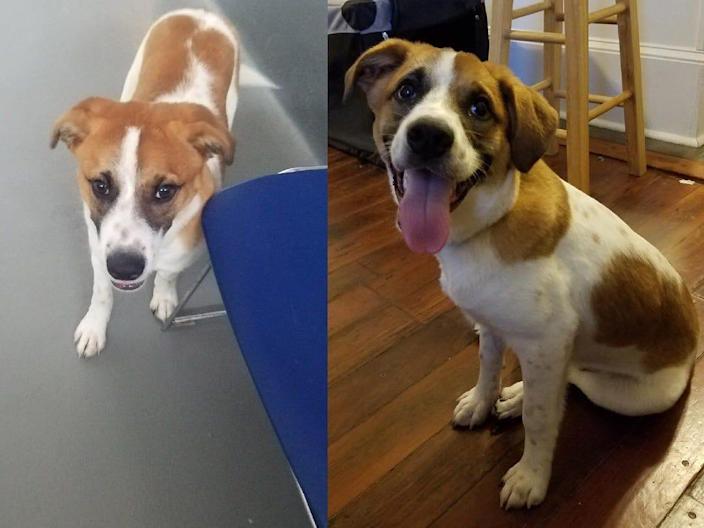 Pippin. pippin__pup/Instagram
One thing is for sure: Pink and green are Mimi's colors.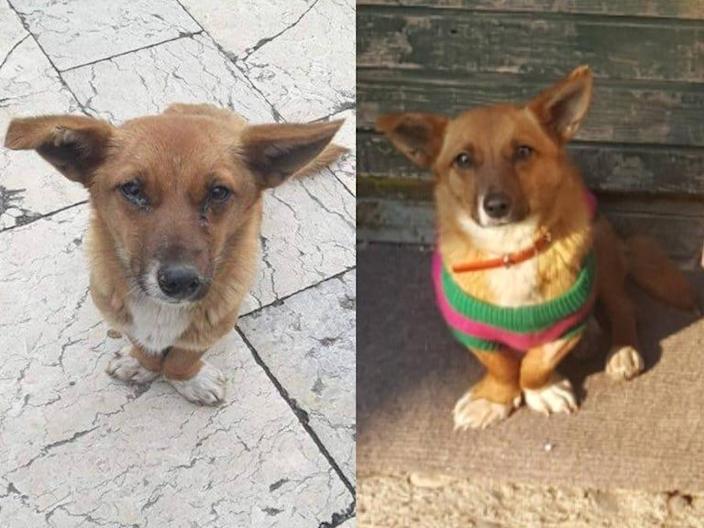 Mimi. cleaner007/Reddit
This cute goofball is Mary Jane, an American pit bull terrier that spent two months in the pound before she found her loving home.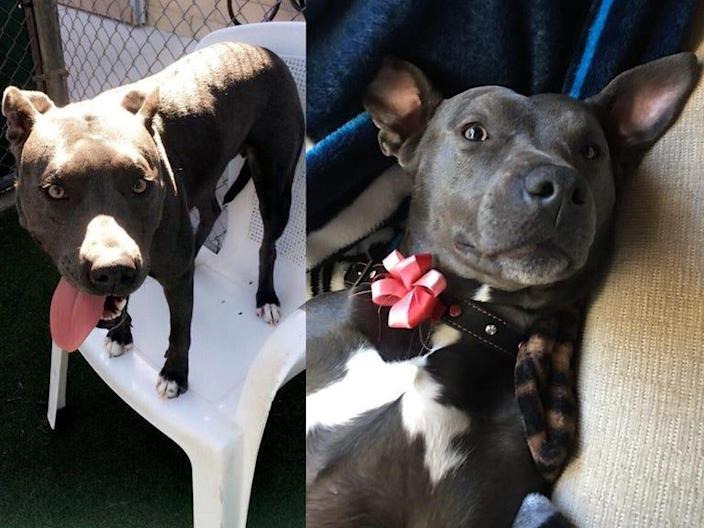 Mary Jane. Rogue_Mongoose/Reddit
Chuck's sad eyes are in the past! He was adopted from the Apple Valley Municipal Animal Shelter in California in March 2018.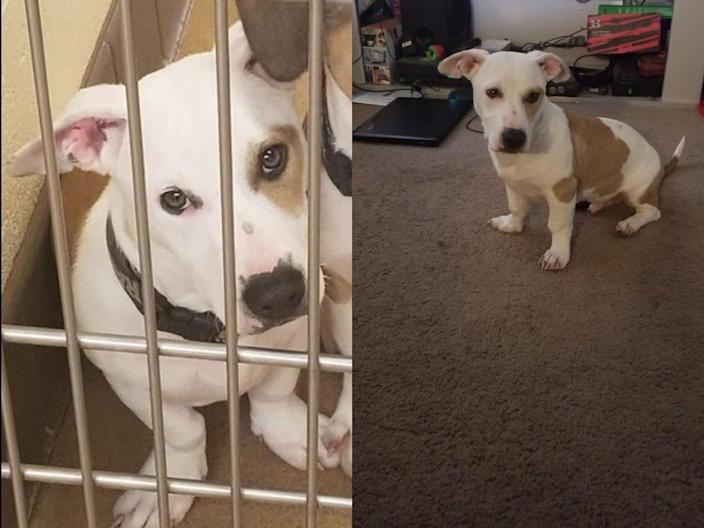 Chuck. Wait_What_Happened/Imgur
Waffle is a true fighter! He survived neglect, mange (a skin disease caused by parasitic mites), and heartworm. Now, he's the happiest little fella!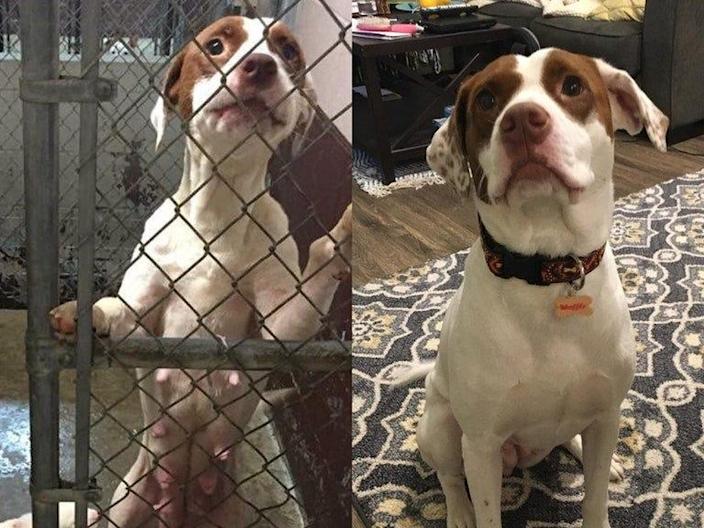 Waffle. haleyb33/Reddit