It is well known that dogs are more than pets – they are family! And because of that, losing a dog can hurt just as much as losing a close family member.
For many pet owners the thought that their furry friend is in "dog heaven" brings comfort in their gloomiest days. And this woman in particular was lucky to "receive" a message from dog heaven that her beloved pup is just fine up there.
Sunny was a 14-year-old ack Russell terrier that died due to a seizure. Her devastated owner, Lucy Ledgeway, a 19-year-old from York, England, noticed something peculiar in the clouds that dark day.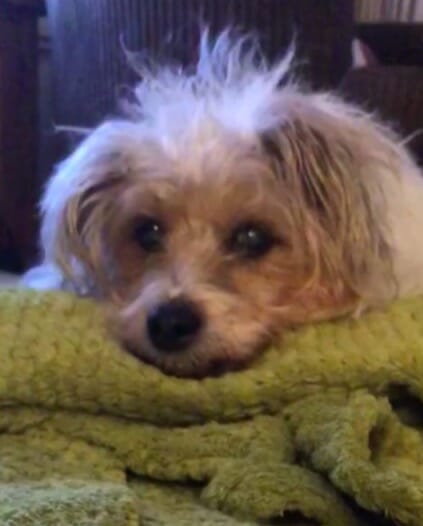 Few hours after the passing of her beloved Sunny, Lucy decided to take a ride with her boyfriend to clear her head. They passed a spot where she used to take Sunny for walks, and Lucy wanted to feel her dog's presence somehow.
"It was so weird. I was thinking to myself that I wanted to see Sunny in the sky as a sign that she was OK," she told the Daily Mail.
And when she looked up into the clouds, much to her surprise her wish was fulfilled!
"I was crying my eyes out and I looked up in the sky and saw Sunny."
my dog passed away in my dads arms this morning seconds before setting off to the vets. later in the day we went out to clear our head and i cried to my boyfriend in the seat she died in, just begging for a sign that she's okay. this is what I was blessed with?? pic.twitter.com/4KVPZnDYDp

— lucy (@LLedgeway) June 20, 2020
For some people this may seem to be a coincidence, some may not even be able to find the dog's face, but for Lucy it meant everything.
"After seeing Sunny in the sky I felt a warmth. It was her way of telling us that she is OK," Lucy said.
The photo went viral shortly after she posted it on Twitter. It's received over 100,000 likes, with many dog lovers expressing their sympathy. Some even shared similar personal experiences:
Something similar happened to me after my boy passed. I know how hard it is to lose them, sending you love? pic.twitter.com/mJ19KkoucP

— M.A.? (@callmetitch) June 21, 2020
Omg, the EXACT SAME THING happened to us in April when our baby passed away!
Sending your family a lot of love and comfort during this difficult time!
??? pic.twitter.com/sqTYnjKNiH

— Jennifer (@XOXOJenny510) June 21, 2020