Meet Nori – the cutest little dog which is a Toy Australian Shepard and Toy Poodle mix. He lives with Kevin Hurless and Tiffany Ngo in Seattle, Washington. His owners admit that Nori is a very unique little dog, even strangers in public usually stop and see Nori's one of a kind little face – almost like a 'human face'.
After Kevin posted a picture of Nori on Twitter, the dog instantly became famous. His picture went viral after receiving so many likes. Although the dog has a 'human face', he is such a cutie! Hurless said, "When he was a puppy, we couldn't go more than a block without someone stopping us to ask questions about him." Although the comments have become less frequent as he's gotten older, his owners still stop to point out his unique face. According to Hurless, Nori had darker fur when he was a puppy, and people often compared him to the characters from Star Wars – Chewbacca or an Ewok. Nori's eyes create the human look, and even his owners agree.
---
Ngo created an account on Instagram for Nori and he instantly became a four-legged influencer. She is also his "momager." Ngo explained, "That's where we get all the comments about his human features, with some people saying he looks like a giant person, or they're marveling at his eyes." She also pointed out that Nori is a friendly dog and loves all the people and dogs he meets.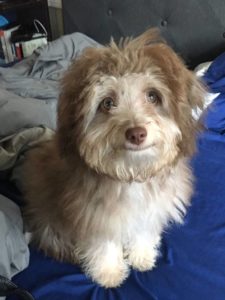 At first, his owners didn't expect quite the reaction they got from all the people on the street. Although they knew Nori has a very unique look, they were very surprised by all the attention he got. However, they remembered when they didn't have a dog, they wanted to pet all of the dogs, so they try to let people meet him as much as possible.
Nori isn't the couple's only pet. They also have a Shih-Tzu, Yorkie cross – also known as a Shorkie – named Boba who is Nori's best friend. According to the owners, their pets get along great. However, Nori sometimes is full of energy and he annoys Boba very much. You can see Nori's human look, even more, when the two are stood side by side," the couple said of Nori and Boba's friendship.
Both of them are cuties!
---