A 3-month-old puppy was shot with a pellet gun, leaving her with paralyzed hind legs. However, it seems that Halo has guardian angels looking over. After the female husky/lab mix had surgery on Wednesday to remove the pellets, vets are hopeful that she will be able to walk again.
Diane Avery, who lives in Anthony, New Mexico, said a concerned citizen found Halo on the side of a road. He was going home after work when he saw the poor puppy on Interstate 10, so he decided to stop and pick her up. Sadly, Halo was paralyzed from the waist down.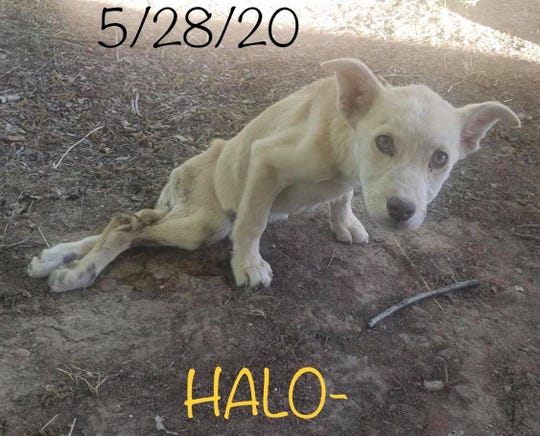 Since his family couldn't keep the 3-month-old puppy, Avery who is a dog rescuer, took her in. At first, she thought that the puppy was hit by a vehicle. The puppy was also dehydrated and very skinny.
---
After Avery took the puppy to the vet, she discovered that a pellet was lodged in Halo's back. Avery said that someone shot the poor puppy and left her to die.
Dr. Edward Silverman is the vet who is treating Halo. He said that the pellet didn't severely damage Halo's spinal cord, so she was able to move her upper legs when she was taken in.  Unfortunately, she was dragging her lower legs.
But, Avery said that Halo's bladder was still in function which is a good sign that she will be mobile after recovery. The kind woman couldn't afford the surgery herself, so she set up a fundraiser in order to raise money for it.
Halo also has a temporary wheelchair in order to help her walk. Avery is hoping that after the surgery, the puppy won't be needing the wheelchair anymore.
After Halo completely recovers, Avery will try to find her a forever home. She noted that the puppy has a cool personality and has the sunniest disposition.
---