Since the coronavirus outbreak, which originated in Wuhan, China, many governments decided to use quarantine as a preventive measure to stop it from spreading. This means that most facilities around the world are temporarily closed to the public, including zoos and aquariums.
Atlanta Humane Society came up with a plan to bring kittens and puppies and kittens of the aquarium. The main purpose of this plan was to provide a little joy to those who are struggling during the quarantine. Christina Hill, the Director of Marketing and Communications, said they wanted to fill our social media feeds with cuteness!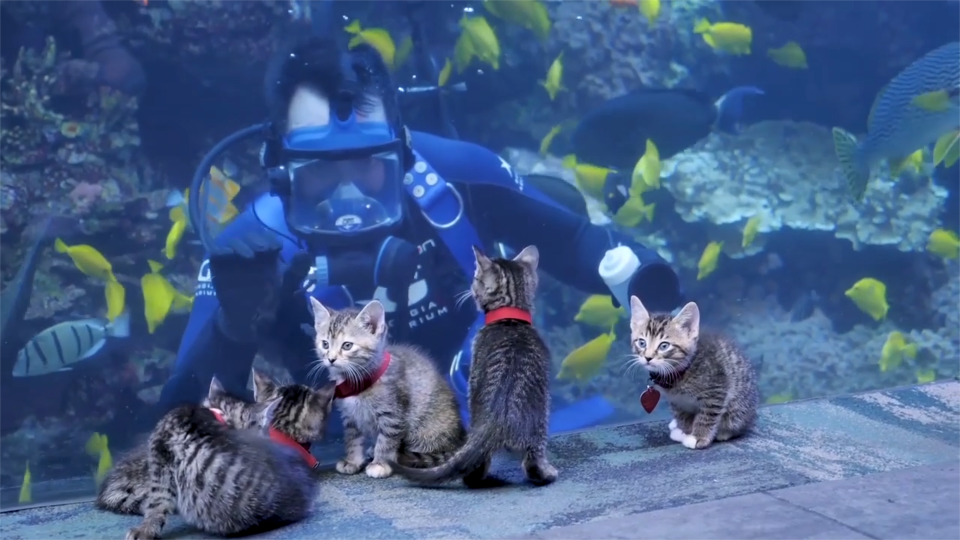 The Georgia Aquarium, which is closed to the public since March 19, decided to treat a litter of 5 rescued felines to a private tour. The empty aquarium became a huge playground!
People on social media were also thrilled with the dog's antics and said it made their day. One viewer commented said, "Paul this is your new assistant love you and Brody both love it when my news channel shows being normal like all the rest of us love the pets"
The Atlanta Humane Society brought the little kittens named Marlin, Guppy, Nemo, Dory, and Bubbles, and Marlin to the aquarium, where they had the time of their life.
---
Their visit was caught on camera. According to the photos, the cute youngsters saw jellyfish, tropical fish, and even sharks for the first time in their lives! However, kittens can't stay out of mischiefs as they roamed freely through the exhibits at the aquarium.
The photos were later shared on social media and many people were mesmerized by their cuteness!
The kittens weren't the only animals that got a private tour. The rescue organization carried out a similar trip when they made the same aquarium a playground for puppies last month.
Just two weeks before the kittens were brought, two of the society's resident puppies also got a private tour. Odie and Carmel, the 2-month-old puppies, were also captured on camera while they playfully took over the aquarium. After playtime, it was time to take a nap in front of a fish tank.
---