Many times we have received various gifts for birthdays, and whether they are expensive or not, we have always been happy.
---
Many couples adopt pets when they deciding to live together.
So the loving couple Molly-Mae Hague and Tommy Fury from Love Island shared a photo of their new pet Mr. Chai.

The pair live in a flat together in Manchester after meeting on the 2019 summer edition of the ITV2 dating show.
Tommy surprised his wife with a Pomeranian puppy for her 21st birthday. She was amazed by that cute little creature walking him in the park and posing with him and Tommy.
They also created an Instagram account where for a short period they managed to get 140k followers.

When Tommy first gave her a Molly-May dog, he also brought her a Louis Vuitton dog basket, which cost around £2,000 ($ 2,500).
He also wrote a note "Dear Mummy, I can't wait to meet you in a few days."
 

View this post on Instagram

 

But after just a few days, the puppy died. This was shocking news when Molly shared on her Instagram account that her cute puppy had died. She unbelievably explains that they only had it for a few days and that she had just taken it on Friday, the puppy got sick.
She wrote on her Instagram account that in this world full of tragedy and loss, she understands that there are far bigger problems than this, but they thought they should share this information.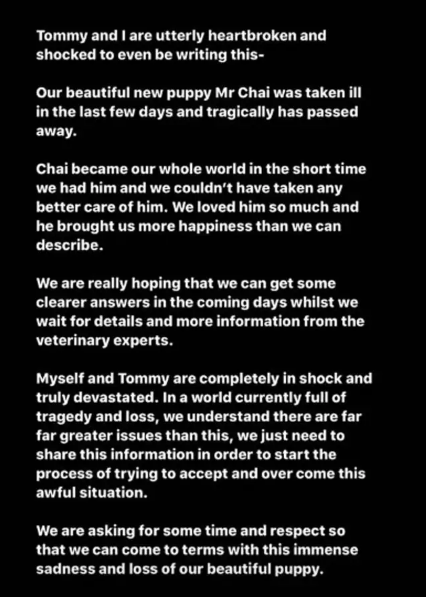 Mr. Chai for them was a huge fortune that appeared in their lives, they loved it endlessly even though it was short-lived.
They hope to receive clearer answers and details in the coming days from veterinary experts.
 

View this post on Instagram

 

Referring to the coronavirus pandemic and protests taking place in cities around the world, Molly-May said she knew there were "far bigger problems than this", but she was certainly too sad and broken by Chai's death.
---